Home

Welcome to the Computational Materials Engineering (CME) lab at University of Toronto (U of T), directed by Prof. Chandra Veer Singh, cross-appointed in the departments of Materials Science & Engineering (MSE) and Mechanical & Industrial Engineering (MIE). CME has quickly emerged as an indispensible tool for engineers to understand fundamental materials behavior and design next generation material systems. It can help solve many of grand challenges facing humankind in the 21st Century. The core themes of our lab's research are: (a) Design and development of ultra-strong, ultra-light materials for future aerospace, automotive and energy technologies, (b) Multi-scale modeling of thermo-mechanical behavior of novel carbon-based materials and systems (graphene, nano-composites etc.), and (c) Computer aided design of next generation hydrogen production and energy storage materials and devices. We utilize a combination of state-of-the-art atomistic modeling and continuum modeling techniques to investigate material behavior at multiple length and time scales. A significant emphasis is on the validation of our computer models through experimental collaborations, and physical realization of our suggested novel material designs through industrial collaborations.

Material systems of interest include nano-crystalline and nano-structured materials, graphene, carbon nanotubes, photocatalytic materials, age hardened alloys, energy storage materials, polymer matrix composites and bio-materials. We study research problems and underlying fundamental aspects related to atomic scale fracture, fatigue and damage failure of materials, dislocation, grain boundary engineering, precipitation hardening, irradiation hardening, design optimization and computational design of materials. Applications of research include nanotechnology, aerospace and automotive sectors,energy storage and sensing devices.

Being multi-disciplinary in nature, our lab consists of members from various backgrounds - physics, mechanics, materials science, aerospace engineering. See our Research tab to know more of our research, and Openings tab if you interested to join our team. You will find more in-depth information about our ongoing projects and cutting-edge research in our group.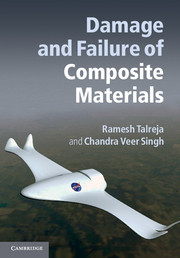 New book on Damage and Failure in Composite Materials (co-authored with Prof. Ramesh Talreja, Texas A&M University) published by Cambridge University Press

ISBN:9780521819428

20% discount code: EN12DFCM (Offer expires 7/1/2013)

Visit www.cambridge.org/us/9780521819428

Book description: Understanding damage and failure of composite materials is critical for reliable and cost-effective engineering design. Bringing together materials mechanics and modeling, this book provides a complete guide to damage, fatigue and failure of composite materials. Early chapters focus on the underlying principles governing composite damage, reviewing basic equations and mechanics theory, before describing mechanisms of damage such as cracking, breakage and buckling. In subsequent chapters, the physical mechanisms underlying the formation and progression of damage under mechanical loads are described with ample experimental data, and micro- and macro-level damage models are combined. Finally, fatigue of composite materials is discussed using fatigue-life diagrams. While there is a special emphasis on polymer matrix composites, metal and ceramic matrix composites are also described. Outlining methods for more reliable design of composite structures, this is a valuable resource for engineers and materials scientists in industry and academia.